Available Puppies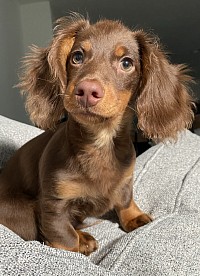 We have new puppies!
Sophie has a newborn litter of Miniature Dachshunds. Pictures are posted on her litter page (link below). Now accepting $250 nonrefundable deposits to hold the puppy of your choice. 
Important Reminder:
Please have your puppy supplies delivered before pickup so they are ready when your puppy gets home. At a minimum, you will need a bag of their food and a bottle of their daily supplement. Visit this page for a complete list of recommended supplies:

Call or text us at (682) 597-4128 to inquire about our Miniature Dachshund puppies for sale in Texas. 
If we don't have what you are looking for now, we may have an upcoming litter that will suit your needs. Deposits are recommend for best selection.