Home of the cutest Miniature Dachshunds in Texas!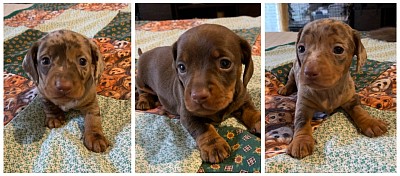 Welcome to Clear Fork Dachshunds
We offer quality, pre-spoiled Miniature Dachshund puppies for sale in Texas. Our puppies mostly come in smooth coat but an occasional long haired puppy can pop up. The colors we most often have available are black and tan, chocolate and tan, black and tan dapple, chocolate dapple, red and red dapple. We are looking for loving forever homes for our babies. If you are ready for a new family member to love then please call us!
Available Puppies
We are anxiously awaiting new Mini Dachshund puppies!
Our plans for 2021 include black 
and tan, chocolate and tan, red and isabella puppies in solid, dapple and piebald patterns. Short hair and long hair are the possible coat types. There will be a nice variety!
Deposits will be accepted after puppies are born. Please check back here or follow our Facebook page for updates!